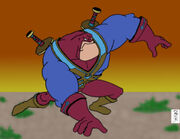 Quest is one of the main characters on the show.  
Prince Nestor can get on his nerves a lot; they always fight. Quest has a hatred for pretty much everything. Quest's significant conflict with Nestor stems from Queen Chiraine banishing Quest (in addition to the allegiance spell). Quest also has major conflicts with Spite, Ogun, Deceit, Agon (the bounty hunter), and the Guardian of the Shattersoul Sword. The only person or thing quest does seem to like is Albert, his bastionite. Quest can be sort of a dick at times.  
Quest is also allergic to dandruff.  
In addition to the above conflicts, it is also revealed that Quest had a rivalry with Gatling at one point (because Gatling caused Quest's banishment).  
Quest is voiced by Ron Pardo, who does other voices for the show (including Graer and Lord Spite).